In his unending quest to plagiarise every single thing that stands as good and decent about the internet, Datazoid proudly ventures toward Chefelf's very own Extinct Beverage Museum. Besides, Datazoid is on a different continent. Datazoid has access to beverages Chefelf does not. Datazoid also speaks often in the third person, it seems. Anyhow. Fanfare ahoy!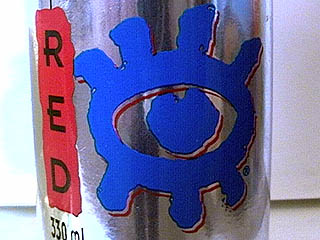 Red Eye: Platinum
Tagline:

"Energy Drink with Attitude", also "7 g ingredients", which I assume alludes to the various chemicals starting with "g" mixed into it.

Manufacturer:

RedEye International. Made in Australia.

Website:
www.red-eye.com.au
Currently under construction.
Magical Contents:
Ginger, gotu kola, ginseng, gingo biloba, guarana, grapeseed and green tea with a twist of lime are the seven "g" ingredients listed above. The latter one frightens me somewhat. It also includes all the usual chemicals you'd expect, like caffeine, taurine, niacin, vitamin B6 and B12, pantothenic acid, inositol and a wheelbarrow full of sugar. (Assuming you have a wheelbarrow the size of three teaspoons, anyway.)
Click here for information on these ingredients.
Medical Warnings:

"Not recommended for children; and pregnant or lactating women; and individuals sensitive to caffeine. (Odd usage of semicolons preserved for posterity yet again.) Also, "CONTAINS CAFFEINE" is printed in a much larger typeface on these older bottles.

Volume:

Bottle; 330ml.

Daily Dosage:

"Consume no more than two bottles per day."

Nutritional Info:

Plenty of sugar.





| | | |
| --- | --- | --- |
| Ingredient | Graph for idiots | Amount per 100ml |
| Energy | | 45cal |
| Protein | | < 0.1g |
| Carbohydrates | | 11.3g |
| Sugars | | 11.0g |
| Sodium | | < 0.1mg |
| Chemicals | | Amount per 100ml |
| Caffeine | | 32mg |
| Taurine | | 18mg |
| Niacin | | 6mg |
| Vitamin B6 | | 1.5mg |
| Pantothenic Acid | | 1.5mg |
| Inositol | | 15.2mg |
| Vitamin B12 | | 1.5ug |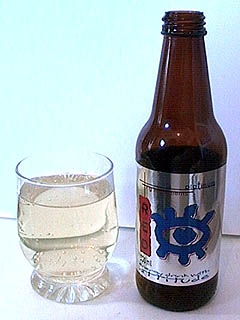 Fear the blue voodoo eye.


To the eye:
It looks pretty much the same as all the other "mild" types of Red Eye. This particular bottle was slightly warmer than the optimal drinking temperature, resulting in the usual spray of tiny bubbles manifesting themselves as massive bubbles instead.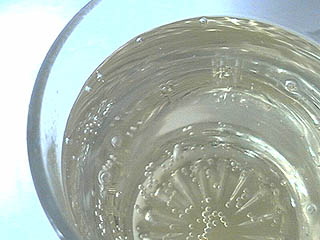 There are actually a lot more bubbles than it seems.


To the nose:
It smells strongly chemical, even to the extent of reminding me of a cleaning product. Like most Red Eye variations, there's a strong scent of sweetness, but it's hard to put a finger (or nostril) on what the actual smell is.

To the mouth:
It's sweet, and slightly fruity. Again, I can't define the actual fruit, but there's a definite fruitiness to it. Possibly peach or apricot, but without the furriness usually associated therewith. It should be noted that this stuff tastes quite vile when it's warm, quite akin to lawn clippings.

And a little while after:
Very little aftertaste. It has the same chemical-like residue that Red Eye Extreme displayed, but otherwise it's not totally unpleasant.

Overall:
It's not unpleasant, really. It should be kept cold, however, as the taste it assumes when it warms up is quite sickening. At least it only tastes this way when it's warm, though. Most energy drinks taste like shredded lawn from the get-go.

One word summary*:
Chilled.



* Like I said, plagiarising everything.