In his unending quest to plagiarise every single thing that stands as good and decent about the internet, Datazoid proudly ventures toward Chefelf's very own Extinct Beverage Museum. Besides, Datazoid is on a different continent. Datazoid has access to beverages Chefelf does not. Datazoid also speaks often in the third person, it seems. Anyhow. Fanfare ahoy!

Go Fast
Tagline:

"Pure Energy"

Manufacturer:

Distributed by Go Fast Sports.

Website:
http://www.gofastsports.com.au/
Bonus points for having a website that contains actual content. Bonus points immediately stricken for having a drink that TASTES LIKE SHIT.
Magical Contents:
Australian honey, Siberian ginseng, taurine, vitamins B6 and B12, gingko biloba, guarana extract, and (wait for it)...milk thistle herb.
Click here for information on these ingredients.
Medical Warnings:

"Not recommended for children; and pregnant or lactating women or caffeine sensitive persons." Warning that's noticably absent is the one stating "Do not drink if your tastes buds work, because you may wish they did not".

Volume:

Can; 250ml.

Daily Dosage:

"Maximum recommended intake: 1 can per day."

Nutritional Info:
Contains less energy than even the Fanta Spider.



| | | |
| --- | --- | --- |
| Ingredient | Graph for idiots | Amount per 100ml |
| Energy | | 37cal |
| Carbohydrates | | 9.3g |
| Sugars | | 8.5g |
| Chemicals | | Amount per 100ml |
| Caffeine | | 32mg |
| Taurine | | 407mg |
| Niacin | | 8.1mg |
| Vitamin B6 | | 1.2mg |
| Pantothenic Acid | | 4.1mg |
| Inositol | | 10.2mg |
| Siberian Ginseng | | 101.6mg |
| Guarana extract | | 30.5mg |
| Gingko biloba extract | | 30.5mg |
| Milk thistle | | 20.3mg |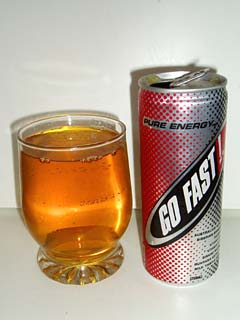 This photo does not do this beverage justice.


To the eye:
It's slightly darker than beer, and not very fizzy. It's also kind of thick, I think. It seems thick, anyway.


Look! Chemical warfare!


To the nose:
It smells like that horrid mix of really cheap, slightly melted candy you always wind up with just after Christmas. A combination of all the sweets no one ever chooses first, the ones that wind up rotting away at the bottom of the Christmas stocking, eventually finding their own way out of their wrappings and mating with other sweeties to produce horrific, Godzilla-like sweetie creatures. This drink smells like a Godzilla-sweetie.


Milk thistle! A noxious weed, for the uninitiated.


To the mouth:
OH SWEET FUCKING JESUS CHRIST

It's horrible.

I mean, just..fuck. It's indescribable.

However, I'm going to give it a shot.

The only flavour other than "GENGKnrwjlgbuigYFYTneCRYHJ!#798" that I can discern is that medicinal flavour that kind of tastes like plastic smells when it's been left in the sun until it's gone brittle and powdery. The rest of the drink (and I use the word "drink" with some hesitance) tastes entirely of rotting lawn clippings.

I propose a recipe:

2kg rotting lawn clippings
1L home brand cough medicine
500mL motor oil
Sprinkling of powdered, aged plastic
Carbonated water to taste

Yum!

This stuff is fucking rancid.

And a little while after:
The only good thing I can find about this shit is that the flavour leaves you pretty quickly. Possibly because it's speedily replaced by the flavour of your stomach contents.

Overall:
Vile disgusting horrid fucking shite.

One word summary*:
"GENGKnrwjlgbuigYFYTneCRYHJ!#798".



* Like I said, plagiarising everything.